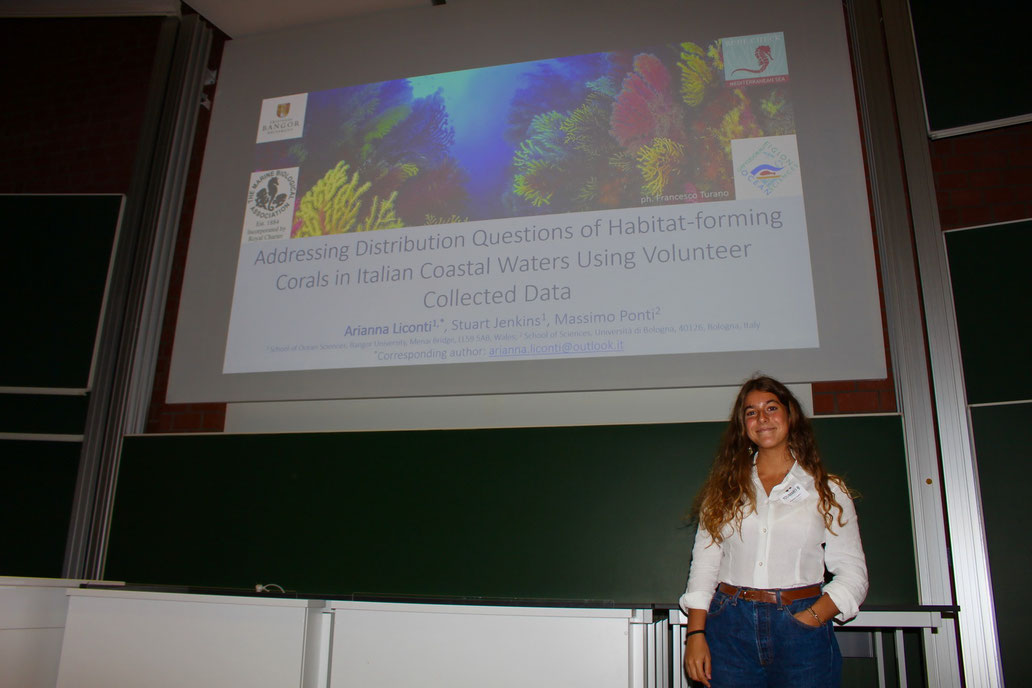 Arianna Liconti, neolaureata in Biologia Marina presso la Bangor University, ha recentemente partecipato alla 9a edizione della conferenza YOUng Marine RESearchers (YOUMARES 9), tenutasi presso la Carl von Ossietzky University di Oldenburg (Germania) dall'11 al 14 Settembre 2018. 
Arianna e la sua collega Hannah Earp hanno condotto una sessione della conferenza intitolata: "Could citizen scientists and voluntourists be the future for marine research and conservation?", nella quale hanno discusso insieme ad altri giovani colleghi i pro e contro dell'utilizzo della pratica di citizen science nella ricerca e conservazione dell'ambiente marino. All'interno della sessione, grazie al supporto di Reef Check Italia (RCI) e della Marine Biological Association (MBA), Arianna ha presentato davanti ad una audience internazionale, la sua tesi di laurea realizzata con i dati di RCI e intitolata: "Addressing Distribution Questions of Habitat-forming Corals in Italian Coastal Waters Using Volunteer Collected Data". All'interno della presentazione, la studentessa ha evidenziato il valore e l'efficacia del protocollo di citizen science utilizzato da RCI per rispondere a domande ecologiche di ampia scala temporale e spaziale, e per aumentare la consapevolezza del pubblico rispetto ad alcune tematiche di conservazione dell'ambiente marino. Inoltre, grazie a questa esperienza, Arianna pubblicherà all'interno degli atti di convegno di YOUMARES 9, un articolo revisionato inter pares come coautore, che andrà a far parte della rivista scientifica Reports on Polar and Marine Research.
Ad Arianna vanno i complimenti di tutto lo staff di Reef Check Italia onlus.