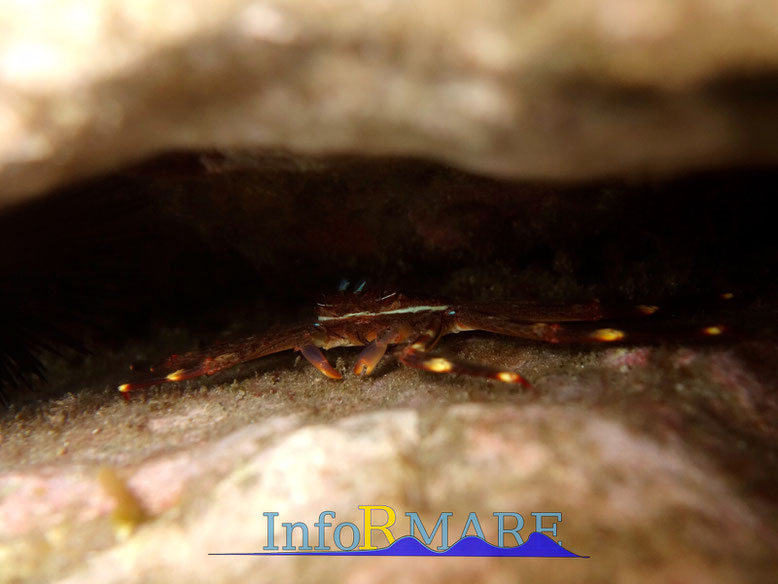 Dopo l'area marina protetta di Portofino proviene da Diano Marina l'ultima segnalazione di questa specie "aliena" potenziale minaccia per le specie autoctone mediterranee.
Granchio dal corpo appiattito, di coloro rossastro, con zampe lunghe, sottili e caratterizzate da anelli gialli in corrispondenza delle articolazioni. E' Percnon gibbesi, specie originaria delle coste atlantiche americane e africane, ma avvistata sempre più comunemente anche nel Mediterraneo. Le prime segnalazioni che indicano la presenza di questa specie in acque mediterranee risalgono al 1999 lungo le coste di Linosa (Relini et al., 2000), poi nelle Baleari (Garcia & Reviriego, 2000), in Sicilia (Pipitone et al., 2001), a Malta (Borg and Attard-Montaldo, 2002), Creta (Cannicci et al., 2006), Grecia (Cannicci et al., 2006), in Calabria (Faccia and Bianchi, 2007), lungo le coste del Salento (Gennaio, 2014), all'Elba (Mosso, ElbaReport 2015) ed ora anche in Liguria. L'Ansa infatti fa uscire il 24 luglio del 2017 la notizia dell'avvistamento del "granchio tropicale" nell'area marina protetta di Portofino e ieri anche a Diano Marina la fotografa Susanna Manuele, vice presidente dell'associazione Informare, ha fotografato l'esemplare a pochi metri di profondità.
Le continue segnalazioni fanno pensare che questa specie abbia una distribuzione ormi ampia lungo quasi tutto il Mediterraneo, ma solo la raccolta di dati e studi più approfonditi permetteranno di capire la dinamica di popolazione non solo di P. gibbesi ma anche dei suoi competitori , come il granchio autoctono Pachygrapsus marmoratus. 
Bibliografia
Borg J.J., Attard-Montalto J., 2002 - The grapsid crab Percnon gibbesi (Milne Ed- wards,1853) (Crustacea, Decapoda, Brachyura), a new addition to the marine fauna of Malta. Central Mediterranean Naturalist, 3:159-160.
Cannicci S., Garcia L.A., Galil BS., 2006 - Racing across the Mediterranean – first record of Percnon gibbesi (Crustacea: Decapoda: Grapsidae) in Greece. JMBA2 Biodiversity Records Published online.
Faccia I., Biancni C.N., 2007 - Prima segnalazione del granchio Percnon gibbesi (Milne H.-edwaRds, 1853) nella Calabria Ionica. Thalassia Salentina, 30: 39-43.
Garcia L., Reviriego B., 2000 - Presència del cranc subtropical Percnon gibbesi (H. Milne Edwards, 1853) (Crustacea, Decapoda, Grapsidae) a les Illes Balears. Pri- miera cita a la Mediterranea occidental. Boll. Soc. Hist. Nat. Balears, 43: 81-89.
Gennaio R., 2014. Diffusion of Percnon gibbesi (H. Milne eDwarDs, 1853) (Crustacea, Decapoda, Grapsidae) along the south Salento, Italy. Thalassia Salentina Thalassia Sal. 36, XX-XX ISSN 0563-3745, e-ISSN 1591-0725 DOI 10.1285/i15910725v36pXX
Mosso, ElbaReport 2015. http://www.greenreport.it/news/aree-protette-e-biodiversita/il-granchio-alieno-alla-conquista-dellisola-delba/
Pipitone C., Badalamenti F., Sparrow A., 2001 - Contribution to the knowledge of Perc- non gibbesi (Decapoda, Grapsidae), an exotic species spreading rapidly in Sicil- ian waters. Crustaceana 74 (10): 1009-1017.
Relini M., Orsill., Puccio V., Azzurro E., 2000 - tHe exotic cRab Percnon gibbesi (H. Mil- ne edwaRds,1853) (Decapoda, Grapsidae) in tHe centRal MediteRRanean. sci. MaR., 64: 337-340. 
Monica Previati
Biologa marina ed educatrice ambientale
Reef Check Italia onlus