The island of Bangka is a location in the heart of the famous "Coral Triangle". Many human activities  in conjunction with the actual warming of the planet are threatening its survival.
Report of an expedition of  Reef Check Italy and Polytechnic University of Marche aimed to contribute to the protection and conservation of the Island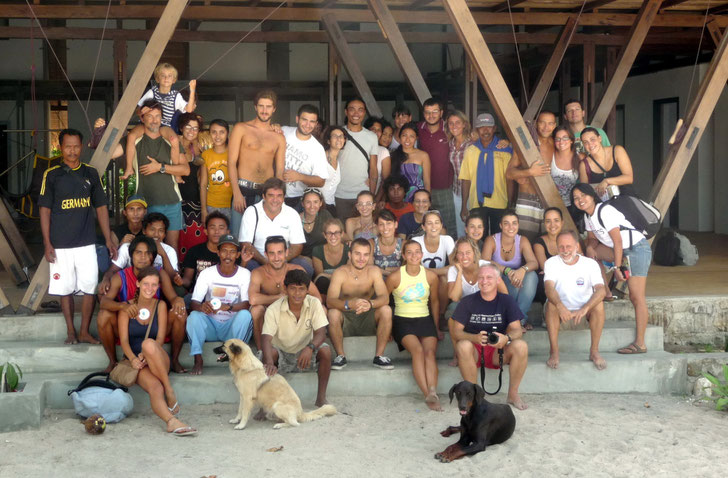 Pulau Bangka is an island in North Sulawesi, Indonesia. Not more than a thousand years ago Bangka was lying over a thousand meters deep in the sea. This young island is located in the center of marine biodiversity of the planet, the Coral Triangle, where there is a maximum number of reef building coral species. Situated between the well-known Bunaken Marine Park and the renowned Lembeh, Bangka showcases the characteristics of both locations, with dive sites marked by large coral formations alternating with stretches of black sand typically populated by the highly sought after critters of the nearby Strait of Lembeh.
As in many other parts of Indonesia, the pressure exerted by humans here is very high, particularly because of the many fisheries which still include the use of techniques such as dynamite and cyanide, characterized by highly destructive impacts. The exploitation of the territories by large mining companies, in particular from Australia, Brazil and China, in search of mineral resources, has already caused in various parts of Sulawesi serious damage to the local tropical forests. This exploitation has caused widespread flooding and landslides with serious consequences for the fragile coral reef and mangrove ecosystems. So it is Pulau Bangka where four Italian guys have decided to realize one of their dreams of running an ambitious project with the aim of accommodating researchers and students studying in the field. In September, this project was successfully tested during an expedition organized by Reef Check Italia Onlus and the Polytechnic University of Marche. The expedition provided a group of students with the opportunity to study firsthand the marine biodiversity of coral reefs along with issues such as bleaching, coral disease and ocean acidification. The Reef Check protocol allowed the students to learn the main techniques of coral reef monitoring with daily dives to assess substrate cover and to take a visual census of fishes and invertebrates. CPR Classes.
These surveys are the first and only assessments available to date concerning the health of coral reefs of Bangka, a "baseline" that will be particularly useful if in the future the activities undertaken in this area will continue. It is hoped that survey teams can continue to provide information useful for the sustainable management of this area. Many thanks to the staff of the Coral Eye Research Center for their impeccable organization during this trip.