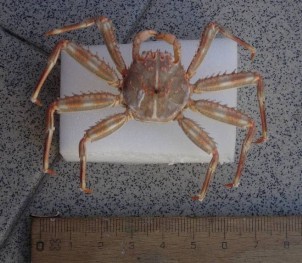 di Federico Betti – Reef Check Italia Associate Program Manager


Percnon gibbesi è un bel granchio appartenente alla famiglia Grapsidae, immediatamente riconoscibile per il carapace estremamente sottile, le zampe lunghe ed appiattite e la colorazione vivace, bruna con strisce rosse e anelli gialli nei pressi delle articolazioni.
Si trova nei primi centimetri al di sotto della superficie, su rocce ricche di anfratti, in cui si nasconde velocemente se spaventato.
È una specie originaria delle coste atlantiche americane, dalla Florida al Brasile, e africane, da Madeira al Golfo di Guinea (Galil et al., 2002), ma la sua presenza è da anni stabile anche lungo le coste pacifiche americane, dalla California al Cile.

Nel 1999 fu avvistato per la prima volta in Mediterraneo, precisamente lungo le coste di Linosa (Relini et al., 2000), arrivato probabilmente tramite acque di zavorra di navi provenienti dal continente americano; da allora la sua diffusione all'interno del nostro mare è stata piuttosto rapida, con segnalazioni provenienti dalle Baleari (Garcia & Reviriego, 2000), da Malta (Borg & Attard-Montaldo, 2002), dalle coste della Sicilia fino alla Campania, dal sud della Sardegna ed ormai anche dall'isola d'Elba. Vediamo quanto impiegherà ad arrivare anche in Liguria.

Pare che al momento l'invasione non abbia portato ad evidenti modificazioni ecosistemiche, forse anche a causa del fatto chePercnon gibbesi è prettamente erbivoro, al contrario della maggior parte degli altri granchi mediterranei, generalmente detritivori o carnivori. La nuova specie ha quindi trovato una nicchia ecologica libera, riuscendo così ad insediarsi con facilità e, allo stesso tempo, senza entrare in competizione con le specie autoctone.
Bisogna però dire che i rapporti fra le diverse specie all'interno degli ecosistemi sono così complessi e ricchi di implicazioni che risulta spesso difficile, se non impossibile, rendersi conto degli effetti dell'introduzione di nuove specie o altre modificazioni fino a che queste non portano a cambiamenti di grande entità; è quindi forse troppo presto per tirare un sospiro di sollievo.


BIBLIOGRAFIA:

Borg, J.J., Attard-Montalto, J., 2002. The grapsid crab Percnon gibbesi (Milne Edwards, 1853) (Crustacea, Decapoda, Brachyura), a new addition to the marine fauna of Malta. Central Mediterranean Naturalist; 3: 159–160.

Galil, B., Froglia, C., Noel, P., 2002. Crustacean Decapods and Stomatopods. Frederic Briand (ed.) CIESM Atlas of exotic species in the Mediterranean Sea. CIESM Publ., Monaco: 192 pp. 

Garcia, L., Reviriego, B., 2000. Presència del cranc subtropical Percnon gibbesi (H. Milne Edwards, 1853) (CRUSTACEA, Decapoda, Grapsidae) a les Illes Balears. Primiera cita a la Mediterranea occidental. Boll. Soc. Hist. Nat. Balears 43: 81-89.

Relini, M., Orsi, L., Puccio, V., Azzurro, E., 2000. The exotic crab Percnon gibbesi (H. Milne Edwards, 1853) (Decapoda, Grapsidae) in the Central Mediterranean. Sci. Mar., 64 (3): 337-340.